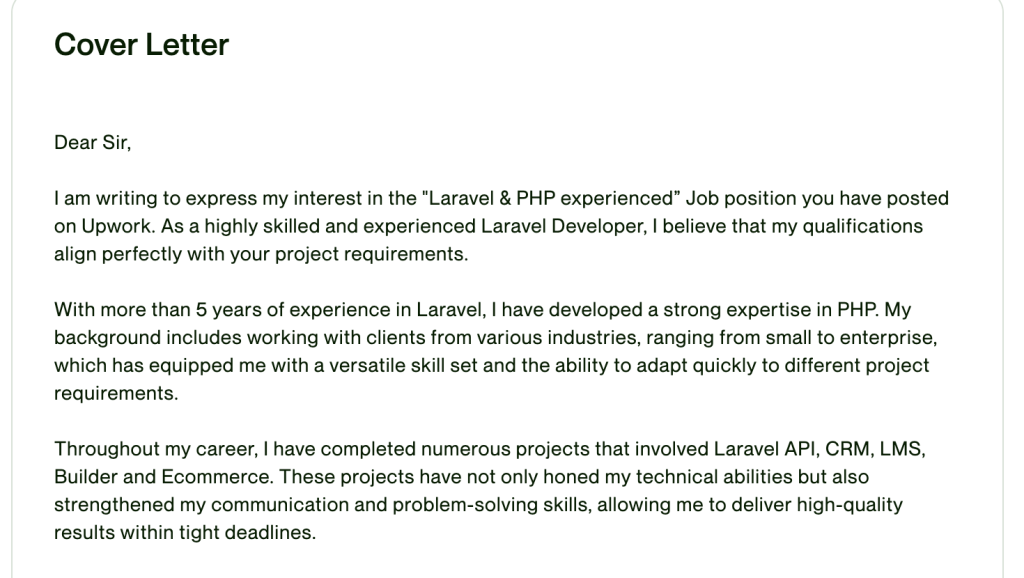 Here is few example cover later that you can use to bid job at Upwork :
EXAMPLE 1 :
Dear Hiring Manager,
I am excited to submit my bid for the [Project Name] on Upwork. With my [Number of Years] years of experience in [Related Field], I am confident that I possess the skills and expertise needed to successfully complete this project.
As a [Related Field] professional, I have gained extensive experience in [Related Skill/Task]. My expertise in [Related Skill/Task] will allow me to complete this project with a high level of accuracy and efficiency. Additionally, I have excellent [Related Skill] skills, which will enable me to communicate effectively with clients and stakeholders throughout the project's lifecycle.
I pride myself on my attention to detail and my ability to deliver projects on time and within budget. I am confident that I can deliver a high-quality product that meets or exceeds your expectations. My strong work ethic and commitment to excellence will ensure that your project is completed to the highest standards.
I am excited about the opportunity to work with you on this project and I look forward to discussing my qualifications in further detail. Thank you for considering my bid.
Sincerely,
[Your Name]
Other Example ? See Below :
Found me at Upwork here !